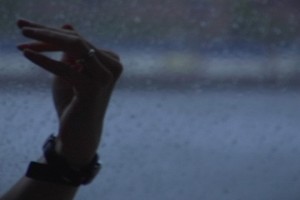 The Task of the Translator (10 min., 2010)
Sachs pays homage to Walter Benjamin's essay "The Task of the Translator" through three studies of the human body. First, she listens to the musings of a wartime doctor grappling with the task of  a kind-of cosmetic surgery for corpses.  Second, she witnesses  a group of Classics scholars confronted  with the  haunting yet whimsical task of translating a newspaper article on Iraqi burial rituals into Latin. And finally, she turns to a radio news report on human remains.
"In The Task of the Translator, Lynne Sachs turns her original, probing eye to the ways in which we struggle to put words to the horrifying realities of War.  In her subtle, trademark shifting between the intimate, personal space of a few individuals and the cavernous, echoing ambiguity of larger, moral questions, Sachs stakes out unsettling territory concerning what it means–what it feels like–to be made into unwitting voyeurs of Mankind's most grotesque doings.   At the same time we find she is also talking, with startling deftness, about the way that all artists are, in the end, engaged in the task of the translator: stuck with the impossible task of rendering imponderables, unutterables, and unsayables, into neat representations to be consumed, digested, perhaps discarded.  We are not, however, left despairing; a pair of hands, caught again and again in the beautiful motion of gesticulation, is far from helpless or mute.  This image captures, rather, the supreme eloquence of the effort to translate, and the poignant hope represented by this pungent, memorable film itself."      — Shira Nayman,   author of the novels The Listener and Awake in the Dark,
For inquiries about rentals or purchases please contact Canyon Cinema or the Film-makers' Cooperative. And for international bookings, please contact Kino Rebelde.