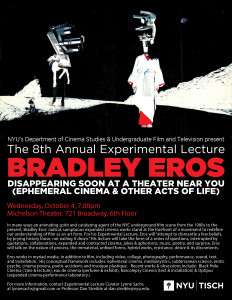 8th Annual Experimental Lecture: Bradley Eros: Disappearing Soon at a Theater Near You (ephemeral cinema & other acts of life)
October 4, 2017
Last October, I invited Bradley Eros to give the 8th Annual Experimental Lecture at NYU. Here is his entire spectacular, collaborative, visionary performance/lecture. He called it "Disappearing soon at a theater near you (ephemeral cinema & other acts of life)".
I'd like to say a bit about the history of the Experimental Lecture. From the beginning, I imagined this talk to be one in which someone who had immersed him or herself in the world of alternative, experimental film would reveal something about the process of making their work by visiting pieces that were either unfinished, unresolved, bewitching or even untouchable. The intention was to lay bare the challenges rather than the successes, the gnawing, ecstatic reality of the work of making art.
Barbara Hammer was our first invited guest. In 2006, she sauntered into the largest lecture hall in this building, weeks after her first round of chemo therapy, carrying an enormously heavy Pagent projector which she then proceeded to carry up and down the stairs as she projected her own 16mm films on every surface of the room in her "The Cinema of the Optic Nerve".
Craig Baldwin tore himself away from his underground film archive, his artistic practice and his 30-year old alternative media series "Other Cinema" in San Francisco to present "The Collage Essay: From Compilation Film to Culture Jam".
Ken Jacobs took us on an odyssey from his early romps in NYC to his most recent obsessions with the state of our world as manifested by the beings that live in the dirt and grime of it all in his "Cucaracha Cinema".
Peggy Ahwesh suggested her own "Parler Femme" by regailing us with her own take on a hard scrabble, experimental ethnography that has taken her to places she never intended on going but somehow found herself – in bliss.
In her "Where Did I Make the Wrong Turn?"
Carolee Schneemann traveled backwards and forwards in time like a archeologist who understands that a cherry pie is more than something to eat. Beginning with obsessive childhood drawings of a staircase, she analyzed those clues from her past that pushed her toward her life's work.
Jonas Mekas recounted the entire history of the avant-garde cinema and the fragile but so vital institutions that sustain us in NYC and beyond, like a bard unraveling the secrets of his mind and his community.
In 2016, Ernie Gehr gave his talk "What is an Unfinished Work?", allowing us into his studio practice, revealing the moments of doubt and stubbornness that he, like all of us, need to continue making our work.
In many ways an animating spirit and catalyzing agent of the NYC underground film scene from the 1980s to the present, Bradley Eros' radical, sumptuous expanded cinema works stand at the forefront of a movement to redefine our understanding of film as an art form. For his Experimental Lecture, Eros "dismantled a few beliefs, by prying history loose, not nailing it down." His lecture will take the form of a series of questions, interrupted by quotations, collaborations, expanded and contracted cinema, jokes & aphorisms, music, poetry, and surprise. Eros will talk on the nature of process, the immaterial, unfixed forms, hybrid works, resistance, desire & its discontents.
Eros works in myriad media, in addition to film, including video, collage, photography, performance, sound, text, and installation. His conceptual framework includes: ephemeral cinema, mediamystics, subterranean science, erotic psyche, cinema povera, poetic accidents and musique plastique. Recent works & obsessions include: Black Hole Cinema ('zine & lecture), eau de cinema (perfume & exhibit), Narcolepsy Cinema.
Thank you to Dan Streible, Cinema Studies at NYU, Cristina Cajulis and NYU Tisch School of the Arts.