NYU's Cinema Studies Department and Undergraduate Film & TV Department present the 11th Annual Experimental Lecture
Friday, Nov. 19, 7 PM
Website: https://tisch.nyu.edu/cinema-studies/events/fall-2021/11th-experimental-lecture
Since 2008, the Experimental Lecture Series has presented veteran filmmakers who immerse themselves in the world of alternative, experimental film. Our intention is to lay bare an artist's challenges rather than their successes, to examine the gnawing, ecstatic reality of the work of making art. Our previous speakers for the Experimental Lecture Series have been Peggy Ahwesh, Craig Baldwin, Bradley Eros, Ernie Gehr, Barbara Hammer, Ken Jacobs, Jonas Mekas, Carolee Schneemann, M.M. Serra, and Nick Dorsky.
– Programmed by Lynne Sachs with Dan Streible.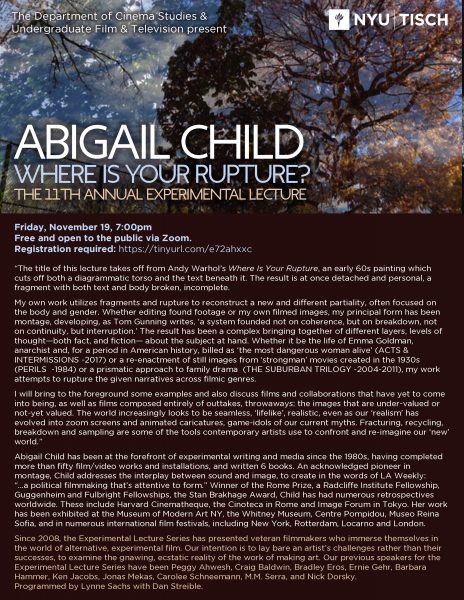 ---
Abigail Child: "Where is Your Rupture?"
"The title of this lecture takes off from Andy Warhol's Where Is Your Rupture, an early 60s painting which cuts off both a diagrammatic torso and the text beneath it. The result is at once detached and personal, a fragment with both text and body broken, incomplete.
My own work utilizes fragments and rupture to reconstruct a new and different partiality, often focused on the body and gender. Whether editing found footage or my own filmed images, my principal form has been montage, developing, as Tom Gunning writes, 'a system founded not on coherence, but on breakdown, not on continuity, but interruption.' The result has been a complex bringing together of different layers, levels of thought—both fact, and fiction— about the subject at hand. Whether it be the life of Emma Goldman, anarchist and, for a period in American history, billed as 'the most dangerous woman alive' (ACTS & INTERMISSIONS -2017) or a re-enactment of still images from 'strongman' movies created in the 1930s (PERILS -1984) or a prismatic approach to family drama (THE SUBURBAN TRILOGY -2004-2011), my work attempts to rupture the given narratives across filmic genres.
I will bring to the foreground some examples and also discuss films and collaborations that have yet to come into being, as well as films composed entirely of outtakes, throwaways: the images that are under-valued or not-yet valued. The world increasingly looks to be seamless, 'lifelike', realistic, even as our 'realism' has evolved into zoom screens and animated caricatures, game-idols of our current myths. Fracturing, recycling, breakdown and sampling are some of the tools contemporary artists use to confront and re-imagine our 'new' world."
Abigail Child has been at the forefront of experimental writing and media since the 1980s, having completed more than fifty film/video works and installations, and written 6 books. An acknowledged pioneer in montage, Child addresses the interplay between sound and image, to create in the words of LA Weekly: "…a political filmmaking that's attentive to form." Winner of the Rome Prize, a Radcliffe Institute Fellowship, Guggenheim and Fulbright Fellowships, the Stan Brakhage Award, Child has had numerous retrospectives worldwide. These include Harvard Cinematheque, the Cinoteca in Rome and Image Forum in Tokyo. Her work has been exhibited at the Museum of Modern Art NY, the Whitney Museum, Centre Pompidou, Museo Reina Sofia, and in numerous international film festivals, including New York, Rotterdam, Locarno and London.