 Saturday, September 26th, 2020
Screening venue
OSLO NIGHT – Dreispitzhalle
https://whiteframe.ch/current-upcoming#/i-see-you-2020

FILM PROGRAM
I see you
a selection of films proposed by Chantal Molleur, White Frame

with: Lynne Sachs, Maya Gehrig, Ismaël Joffroy Chandoutis, Astrid Bussink, Sidsel Meineche Hansen and Therese Henningsen and Diane Obomsawin.

The popular saying, I see you, is used when an individual acknowledges or understands a different point of view highlighting its importance. The films selected focus on some of the core issues in today's society bringing us closer to a better understanding of the challenges and prospects put forward by these seven filmmakers.

This program includes works that speak to the universal and touch on empathy, arousal, fear, confusion and satisfaction through the portraying of complex stories and falls under this year's theme on emotions proposed by HeK and Kunsthaus Baselland for OSLO NIGHT.
A Month of Single Frames
Lynne Sachs, USA, 2019, 14 min 12, English

In 1998, filmmaker Barbara Hammer had an artist residency in a shack without running water or electricity. While there, she shot film, recorded sounds and kept a journal. In 2018, Barbara began her own process of dying by revisiting her personal archive. She gave all of her images, sounds and writing from the residency to filmmaker Lynne Sachs and invited her to make a film with the material. Through her own filmmaking, Lynne explores Barbara's experience of solitude. She places text on the screen as a confrontation with a somatic cinema that brings us all together in multiple spaces and times.
Average Happiness
Maya Gehrig, Switzerland, 2019, 7 min 15, no dialog

During a PowerPoint presentation, statistical diagrams are breaking free from the strait-jacket of their coordinates. A trip into the sensual world of statistics begins. Pie charts are melting, arrow diagrams twisting, scatter plots, bar graphs and stock market curves join in a collective climax.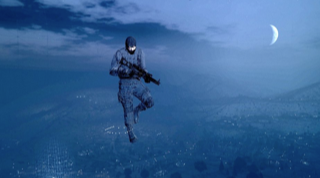 Swatted
Ismaël Joffroy Chandoutis, France, 2018, 11 min, English

Online players describe their struggles with "swatting", a life-threatening cyber-harassment phenomenon that looms over them whenever they play. The events take shape through youtube videos and wireframe images from a video game.
Listen
Astrid Bussink, The Netherlands, 2017, 15 min, Dutch with English subs

Life can seem pretty overwhelming at times, particularly when you're growing up. And it's not always easy to talk to your parents or friends about your problems. Fortunately, the "Kindertelefoon" (Child Helpline) in the Netherlands provides a listening ear. LISTEN presents a cross-section of conversations between children and the Kindertelefoon.
Maintenancer (doc.)
Sidsel Meineche Hansen and Therese Henningsen, Germany, 2018, 13 min 5, German with English subs

The video work Maintenancer, which was produced as part of Meineche Hansen's 2018 PRE-ORDER I-III exhibition series, focuses on the use and maintenance of sex dolls in the context of a German brothel. The work documents the transition into post-human prostitution – where sex work shifts from the physical body of the sex worker, onto the sex doll or robot.
I Like Girls
Diane Obomsawin, Canada, 2016, 8 min, English

In this animated short from Diane Obomsawin, four women reveal the nitty-gritty about their first loves, sharing funny and intimate tales of one-sided infatuation, mutual attraction, erotic moments, and fumbling attempts at sexual expression.