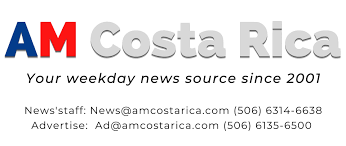 Costa Rica International Film Festival kicks off this week
AM Costa Rica
Published on Wednesday, June 8, 2022
By the A.M. Costa Rica staff
https://www.amcostarica.com/Costa%20Rica%20International%20Film%20Festival%20kicks%20off%20this%20week%20060822.html
– The retrospective category has been dedicated to the American filmmaker and poet Lynne Sachs –
Displaying independent films from 37 countries and in 15 different languages, the tenth edition of the Costa Rica International Film Festival begins on Thursday.
According to the Ministry of Culture, the festival will take place in two parts. First from June 9 to 18 and then from June 29 to Aug. 26.
The categories of the festival include retrospective films, panorama, young people and pioneers of cinema, among others.
The retrospective category has been dedicated to the American filmmaker and poet Lynne Sachs, who has made 37 films, some of which have won awards or have been included in retrospectives at major festivals.
Sachs's 2019 film, "A Month of Single Frames," made with and for Barbara Hammer, won the Grand Prize at the International Short Film Festival Oberhausen in 2020.
In 2021, both the Edison Film Festival and the Prismatic Ground Film Festival at the Maysles Documentary Center awarded Sachs for her body of work in the experimental and documentary fields.
Last year the Festival displayed "Film About a Father Who" (2020), directed by Sachs, which is defined as "a poignant and moving film," by Fernando Chaves-Espinach, director of the festival. "(Sachs) mixes fiction, documentary, experimental film, performance among others," he said.
"Sachs demonstrates the energy of contemporary cinema and the multiple forms that this art takes, from an intimate and reflective perspective that dialogues with certain forms of filmmaking in our context," Chaves said.
The festival will be held in several movie theaters in San José, as well as in different communities of the country in rural areas so that more people can enjoy the event, the ministry said.
In San José, the films will be shown at Cine Magaly, the Film Center of the Ministry of Culture and the French Alliance of the France Embassy in Costa Rica.
In rural areas, the festival will be presented at the CCM movie theaters, located in San Ramón and San Carlos in Alajuela Province, in Jacó Beach in Puntarenas Province.
Also, CitiCinemas movie theaters in rural areas will present the festival in Grecia in Alajuela Province, Limón City in Limón Province and Paso Canoas in Puntarenas Province.
In addition, the festival will be presented at Multiplexes in Liberia, Guanacaste Province.
The jury is made up of directors, producers and people of the film industry from Costa Rica and other places such as Northern Ireland, the United Kingdom, Colombia, the Basque Country, Germany and Hungary.
The festival will award three mail films for their formal quality and content. In addition, the winning films will receive about $11,000 in prizes in the categories such as Best National Short; Best Costa Rican Feature Film, Best Central American and Caribbean Feature Film, among others.
People interested in participating in the festival can buy tickets, priced between $3 and $4, on the Festival weband Magaly Theater web.