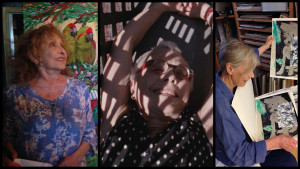 Carolee, Barbara & Gunvor
by Lynne Sachs
Super 8mm and 16mm film transferred to digital, 8 minutes, 2018
Three renowned women artists discuss their passion for filmmaking.
From 2015 to 2017, Lynne visited with Carolee Schneemann, Barbara Hammer and Gunvor Nelson, three multi-faceted artists who have embraced the moving image throughout their lives. From Carolee's 18th Century house in the woods of Upstate New York to Barbara's West Village studio to Gunvor's childhood village in Sweden, Lynne shoots film with each woman in the place where she finds grounding and spark.
Awards:  "Best of Festival" Onion City Experimental Film Festival, Chicago, 2018.
Screenings: Premiere Documentary Fortnight, Museum of Modern Art, Feb. 20 – 26, 2018; Amherst College; Los Angeles Film Forum; Echo Park Film Center, Los Angeles; Other Cinema, San Francisco; Filmoteca Español, Madrid; "Xcèntric" Center of Contemporary Culture of Barcelona, Spain; Cosmic Ray Film Festival; Onion City Film Festival, Chicago; Oberhausen Film Festival, Germany; DocYard at the Brattle Theater, Boston; Athens Film and Video Festival (Ohio).
What a beautiful compilation…. I love my section and so appreciate the triple-visions within your camera life. It really is a lyric and incisive triple-portrait. I thank you so much for this clarity, visual richness. And I loved seeing Barbara with those old Bolex cameras! Your subtle inclusion of our personal surround has rhythm, shadow, light, momentum and quietude. How do we celebrate with you for this splendid work? 
With love and admiration!
Carolee
——
Hi Lynne,
I finally had a chance to watch your lovely film! I was surprised at how energetically I performed for your camera, I was so happy when Gunvor finally spoke! She is as beautiful as ever. I'm honored Lynne, to be grouped with such strong and remarkable filmmakers. 
Love,
Barbara
—————
REVIEWS
Screen Slate – 2/22/18
https://www.screenslate.com/features/733
"Lynne Sachs' Carolee, Barbara and Gunvor is an 8-minute triptych of brief encounters with Carolee Schneemann, Barbara Hammer, and Gunvor Nelson filmed at the artists' homes or studios. Sachs has a really well-attuned photographic eye, and she captures the trio in a series of easygoing domestic situations. The three artists discuss their artistic lives, how they came into their practice, how their gender identities factor in, where their work comes from. It's a simple premise with intimate results, especially good at giving a sense of the artists' environments. "  (Tyler Maxin)
Village Voice – 2/16/18
https://www.villagevoice.com/2018/02/16/a-pocket-of-doc-fortnight-selections-consider-the-pros-and-cons-of-a-cameras-intimacy/
"I could make the inside of myself show on the outside," Barbara Hammer says in Lynne Sachs's documentary Carolee, Barbara & Gunvor (2018), explaining how a lighter movie camera, developed in the Sixties, helped her convey intimacy, and thus became a useful, malleable tool of expression. The short, in which Sachs pays a visit to pioneering women artists who used moving image in their practice — Hammer, Carolee Schneemann, Gunvor Nelson — will enjoy a weeklong run as part of "Doc Fortnight," the Museum of Modern Art's annual showcase dedicated to nonfiction film.  (Ela Bittencourt)