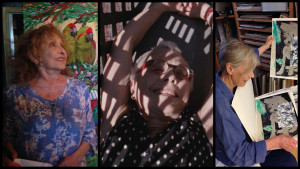 Carolee, Barbara & Gunvor
by Lynne Sachs
Super 8mm and 16mm film transferred to digital, 8 minutes, 2018
Three renowned women artists discuss their passion for filmmaking.
From 2015 to 2017, Lynne visited with Carolee Schneemann, Barbara Hammer and Gunvor Nelson, three multi-faceted artists who have embraced the moving image throughout their lives. From Carolee's 18th Century house in the woods of Upstate New York to Barbara's West Village studio to Gunvor's childhood village in Sweden, Lynne shoots film with each woman in the place where she finds grounding and spark.
What a beautiful compilation…. I love my section and so appreciate the triple-visions within your camera life. It really is a lyric and incisive triple-portrait. I thank you so much for this clarity, visual richness. And I loved seeing Barbara with those old Bolex cameras! Your subtle inclusion of our personal surround has rhythm, shadow, light, momentum and quietude. How do we celebrate with you for this splendid work? 
With love and admiration!
Carolee
——
Hi Lynne,
I finally had a chance to watch your lovely film! I was surprised at how energetically I performed for your camera, I was so happy when Gunvor finally spoke! She is as beautiful as ever. I'm honored Lynne, to be grouped with such strong and remarkable filmmakers. 
Love,
Barbara
Screenings: Premiere, Museum of Modern Art, Feb. 20 – 26, 2018; Amerherst College; Los Angeles Film Forum; Echo Park Film Center; Other Cinema, San Francisco.