Carolee, Barbara & Gunvor
by Lynne Sachs
Super 8mm and 16mm film transferred to digital, 8 minutes, 2018
For public or school screenings of any kind please contact Canyon Cinema or Filmmakers Cooperative or lynnesachs@gmail.com
Three renowned women artists discuss their passion for filmmaking.
From 2015 to 2017, Lynne visited with Carolee Schneemann, Barbara Hammer and Gunvor Nelson, three multi-faceted artists who have embraced the moving image throughout their lives. From Carolee's 18th Century house in the woods of Upstate New York to Barbara's West Village studio to Gunvor's childhood village in Sweden, Lynne shoots film with each woman in the place where she finds grounding and spark.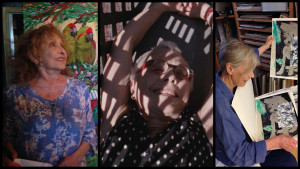 Awards:  "Best of Festival" Onion City Experimental Film Festival, Chicago, 2018; Jury Prize Festas Curtas Belo Horizante, 2018.
Screenings: Premiere Documentary Fortnight, Museum of Modern Art, Feb. 20 – 26, 2018; Amherst College; Los Angeles Film Forum; Echo Park Film Center, Los Angeles; Other Cinema, San Francisco; Filmoteca Español, Madrid; "Xcèntric" Center of Contemporary Culture of Barcelona, Spain; Cosmic Ray Film Festival, Durham, NC; Onion City Film Festival, Chicago; Oberhausen Film Festival, Germany; DocYard at the Brattle Theater, Boston; Athens Film and Video Festival (Ohio); Edinburgh Film Festival; Hallwalls Contemporary Art Center, Buffalo, NY; Festival de Curtas Belo Horizonte, Brazil; International Queer Film Festival, Hamburg, Germany; Pacific Film Archive/Berkeley Art Museum, Berkeley, California; Woodstock Film Festival; Mill Valley Film Festival; Jhilava Film Festival, Czech Republic; Viennale, Vienna, Austria; Antimatter Media Arts Festival, Victoria, Canada; London Short Film Festival; National Gallery of Art, Washington, D.C; Queer Art Film, IFC Center, NY.
Responses from Carolee and Barbara:
"What a beautiful compilation…. I love my section and so appreciate the triple-visions within your camera life. It really is a lyric and incisive triple-portrait. I thank you so much for this clarity, visual richness. And I loved seeing Barbara with those old Bolex cameras! Your subtle inclusion of our personal surround has rhythm, shadow, light, momentum and quietude. How do we celebrate with you for this splendid work?"
With love and admiration!
Carolee
——
Hi Lynne,
I finally had a chance to watch your lovely film! I was surprised at how energetically I performed for your camera, I was so happy when Gunvor finally spoke! She is as beautiful as ever. I'm honored Lynne, to be grouped with such strong and remarkable filmmakers. 
Love,
Barbara
—————
REVIEWS
Screen Slate – 2/22/18
https://www.screenslate.com/features/733
"Lynne Sachs' Carolee, Barbara and Gunvor is an 8-minute triptych of brief encounters with Carolee Schneemann, Barbara Hammer, and Gunvor Nelson filmed at the artists' homes or studios. Sachs has a really well-attuned photographic eye, and she captures the trio in a series of easygoing domestic situations. The three artists discuss their artistic lives, how they came into their practice, how their gender identities factor in, where their work comes from. It's a simple premise with intimate results, especially good at giving a sense of the artists' environments. "  (Tyler Maxin)
Village Voice – 2/16/18
https://www.villagevoice.com/2018/02/16/a-pocket-of-doc-fortnight-selections-consider-the-pros-and-cons-of-a-cameras-intimacy/
"I could make the inside of myself show on the outside," Barbara Hammer says in Lynne Sachs's documentary Carolee, Barbara & Gunvor (2018), explaining how a lighter movie camera, developed in the Sixties, helped her convey intimacy, and thus became a useful, malleable tool of expression. The short, in which Sachs pays a visit to pioneering women artists who used moving image in their practice — Hammer, Carolee Schneemann, Gunvor Nelson — will enjoy a weeklong run as part of "Doc Fortnight," the Museum of Modern Art's annual showcase dedicated to nonfiction film.  (Ela Bittencourt)
Brooklyn Rail, 4/4/18
Review by Mark Block
https://brooklynrail.org/2018/04/artseen/JEFFREY-PERKINS-George
"A similarly brief and similarly enchanting encounter followed with the world premiere screening of Carolee, Barbara, and Gunvor, (2018) Lynne Sachs's nine-minute cinematic collage exploring the distinctive styles and approaches of three artists. She delicately weaves them together by positioning them each in a place of familiarity and inner personal power to themselves and their work. Schneemann interacts with a film camera as a prop which becomes an inducer of memories in her Hudson Valley home; documentary maker Barbara Hammer moves around various sources of inspiration in her West Village studio and Gunvor Nelson shares glimpses of the village where she spent her childhood in Sweden. Each artist is gracefully and uniquely introduced via different relationships they have created with themselves, their environments, the filmmaker, and the audience."
agnès films: Supporting Women and Feminist Filmmakers
4/5/2018
Review by Julia Casper Roth
http://agnesfilms.com/reviews/review-of-lynne-sachs-carolee-barbara-and-gunvor
It was deep into her artistic practice that Lynne Sachs shifted to a collaborative style of filmmaking. As she recounts on her website, Sachs was in the midst of recording a project when it struck her that those in front of the camera were performing. Aware that such hyperbolic displays might betray the authenticity of her subjects, Sachs invited the subjects to participate with her. No longer was her process about filming and being filmed. Rather, filmmaking became a joint effort that softened the camera as an intermediary and aloof barrier.
It's this approach to filmmaking that makes Sachs' most recent work, Carolee, Barbara and Gunvor, such a particularly wonderful piece. The short film doesn't expose the stories of just any subjects; it looks at the lives of three creative giants who work with the moving image: Carolee Schneemann, Barbara Hammer, and Gunvor Nelson. With filmmakers balancing out both sides of the lens, the collaboration between filmmaker and subject reaches superheroine proportions.
Shot on 8mm and 16mm film, the soft colors and square aspect ratio of the film pull the viewer out of contemporary times. In the first image of the film, a cat is perched on a tree limb. In the next, the cat is acting as sentinel on a porch. The camera looks from the inside of a house out, framing the cat in a doorway. This moment jars me. I hear the voice of Schneemann discussing her entry into the medium of moving images, but the picture quality, the cat, the framing—it all conjures images of Schneemann's own Fuses. For a moment, I wonder if I'm actually looking at Schneemann's footage, but the tell-tale painted film frames, frenetic cuts, and abstraction of her work are absent.
Sachs' camera casually captures mundane moments at Schneemann's upstate New York home with beautiful, compositional precision. Schneemann describes moments ranging from her first experience with a Bolex camera to her desire to film the ordinariness of light coming through a hospital window. While she describes it, Sachs captures the sentiment; Schneeman is seen talking on the phone, hanging laundry, looking at mail. Sachs also prioritizes otherwise subtle images in and around the home: a dead bird on the porch, light coming through the window, and shots of greenery around the yard. In this piece, collaboration comes in the form of homage and interpretation.
Next, the film moves to the voice and image of Barbara Hammer. Of the film's three subjects, Hammer is perhaps the most performative of the bunch. In a compositionally stunning scene, Hammer, at turns, walks and jogs the length of an iron fence in New York's West Village. She repeats this several times, her body mingling with the long shadows cast by the iron slats. Eventually, she addresses the presence of Sachs' camera. She stops, stares into it—challenges it—until Sachs pulls the camera skyward. A moment later, Hammer is on the ground, bathed in the fence's shadows and smiling. Accompanying these images is Hammer's forever youthful voice, explaining her love of performance both with and without her camera.
From here, the viewer moves into Hammer's studio space to watch her toy with window blinds and choreograph film cameras as she slides them across her table. She discusses identity, and that discussion is punctuated with another challenge to Sachs' camera; Hammer points the lens of a camera right back at her.
The final section of the triad takes the viewer to a montage of images that focus on the natural: flowers, ducks, a pond, and landscape greenery. There is no audio soundtrack for the first portion of this section: no music and no narration. The faintest sound of birds in the distant background can be missed unless the volume is set to high. Finally, the voice of Gunvor Nelson cuts the silence. It joins the images, describing Nelson's entry into film and her impending exit from it as well. The images in this section of the film seem crisper, perhaps to reflect the camera Nelson holds in her hands—a digital Nikon. As Nelson and her camera interact with flowers and landscape, Sachs' camera watches. Eventually, the two artists end up lens to lens, looking down a barrel at one another's craft.
Carolee, Barbara and Gunvor is an exquisite dance shared by filmmakers and their literal and metaphorical lenses. It's also a wonderful journey of nostalgia. The look of the 8mm and 16mm film paired with the subject matter easily takes the viewer back to the innovative first moments of women's experimental filmmaking.