"A Month of Single Frames" by Lynne Sachs
Made with and for Barbara Hammer
14 min. color sound 2019

Feb. 17 one week length to film: 
Vimeo: https://vimeo.com/576716936
Password:  LS2021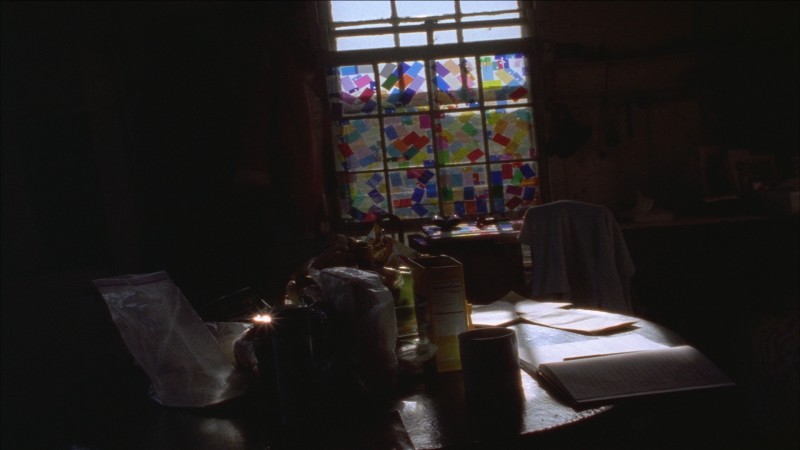 In 1998, filmmaker Barbara Hammer had a one-month artist residency in the C Scape Duneshack which is run by the Provincetown Community Compact in Cape Cod, Massachusetts. The shack had no running water or electricity. While there, she shot 16mm film with her Beaulieu camera, recorded sounds with her cassette recorder and kept a journal.
In 2018, Barbara began her own process of dying by revisiting her personal archive. She gave all of her Duneshack images, sounds and writing to filmmaker Lynne Sachs and invited her to make a film with the material.
"While editing the film, the words on the screen came to me in a dream. I was really trying to figure out a way to talk to the experience of solitude that Barbara had had, how to be there with her somehow through the time that we would all share together watching her and the film. My text is a confrontation with a somatic cinema that brings us all together in multiple spaces at once." — Lynne Sachs
Support provided by Wexner Center Film/ Video Studio and Artist Residency Award – Jennifer Lange, Curator. Additional Editing by Paul Hill; with gratitude to Florrie Burke.
"The result is an incredibly potent study of life in all its many forms and the difficulty of facing one's own mortality … Sachs deliberately contrasts Hammer's shots of the gorgeous sun-dappled ridges with her close-ups of plants and insects, setting the grand majesty of the world against its delicate minutiae to form a rich tapestry of life among the banks. Crucially, the film never feels manufactured or over-structured. Sachs successfully maintains the feeling of an off-the-cuff journal that captures Hammer's ideas as they come to her… At the beginning of the film, Hammer reads from her diary "I didn't shoot it, I saw it," and it is this feeling of spontaneous observation and meditation that Sachs manages to recapture so successfully here."

–Robert Salsbury, One Room With A View
Winner of the Grand Prize of the City of Oberhausen at the 66th Annual Oberhausen Film Festival
"In the age of necessary social distancing, we would like to highlight a remarkable film which fulfills the noblest vocation of art, fostering an emotional connection between people from different times and geographical locations. For the ability to find poetry and complexity in simple things, for its profound love for life and people, and for attention to detail in working with delicate matters, we decided to award the Grand Prize of the City of Oberhausen to A Month of Single Frames by Lynne Sachs."

Statement from Oberhausen Jury
---
This film is currently only available with a password. Please write to info@lynnesachs.com to request access.
---
Awards:
Jury's Choice Award, Black Maria's 39th Annual Festival Tour – 2020; Grand Prize Award, International Short Film Festival Oberhausen
Support provided by Wexner Center Film/ Video Studio and Artist Residency Award
Screenings:
LUX & Club des Femmes present Evidentiary Bodies: Celebrating Barbara Hammer & Carolee Schneemann, London; 21st Belo Horizonte International Short Film Festival (Fest CurtasBH), Brazil; National Gallery of Art, Washington, D.C.; DocLisBoa, Portugal; Museo de Arte Moderno Buenos Aires, Argentina; MUTA, International Audio Visual Appropriation Festival, Lima, Perú; Wexner Center for the Arts, Ohio; Big Sky Documentary Film Festival, Missoula, Montana; Museum of Modern Art Documentary Fortnight 2020; MiradasDoc Festival, Canary Islands, Spain; Punto de Vista Documentary Film Festival, Pamplona, Spain; Courtisane Festival, Ghent, Belgium; Oberhausen International Film Festival; Edinburgh International Film Festival (cancelled); Iowa City International Documentary Festival; Maryland Film Festival; DocuFest, Kosovo; aGLIFF (All Genders, Lifestyles, and Identities Film Festival), Austin, Texas; Kaleidoskop One-Month Outdoor Projection, Vienna, Austria; Sydney Underground Film Festival, Australia; Woodstock Film Festival; Vancouver International Film Festival; White Frame Gallery, Basel, Switzerland; AntiMatter Film Festival, British Columbia, Canada; Cámara Lúcida, Cuenca, Ecuador; Drunken Film Festival, 2020; Curtocircuíto International Film Festival, Santiago de Compostela, Spain; London Short Film Festival; Kultur Programaziorako Koordinatzailea Coordinadora de Programación Cultural, Bilbao, Spain; PHI Foundation for Contemporary Art, Montreal; Artists' & Experimental Moving Image, Dublin, Ireland, 2021; Image Forum, Japan, 2021; Clint Roenisch Gallery, Toronto; Vienna Shorts International Film Festival, Austria, 2021; Edinburgh International Film Festival, 2021; Short Waves Festival, Posdan, Poland, 2021; Festival International de Cortemetrajes de México 2021; Kunstnernes Hus, Oslo, Norway, 2021; Cinemaattic Catalan Film Festival with Invisible Women Archives program 2021; Glasgow Film Theater in Invisible Women program on Women's Epistolary Cinema, Scotland; Cork International Film Festival, Ireland Artist Focus presented by Artist and Experimental Moving Image; Metrograph Theater, New York City 2021.
For inquiries about rentals or purchases please contact Canyon Cinema or the Film-makers' Cooperative. And for international bookings, please contact Kino Rebelde.
---
Remember Barbara Hammer Program at Image Forum (Japan)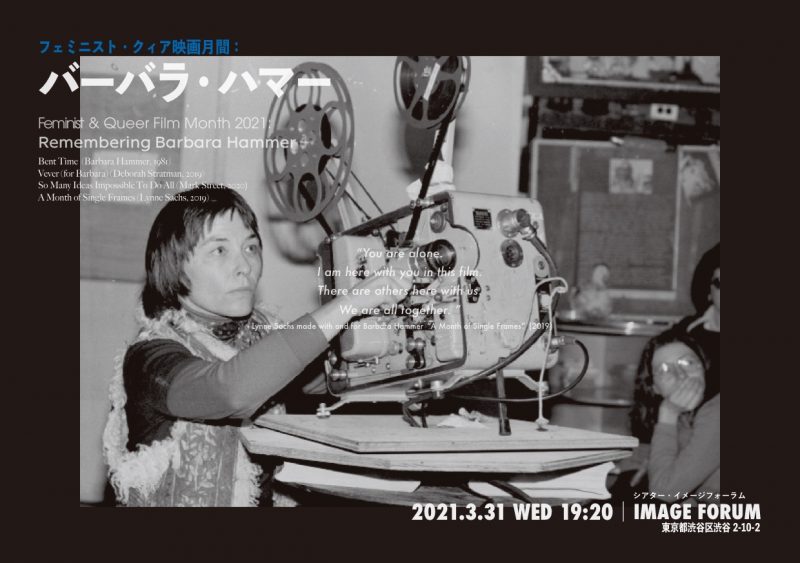 ---