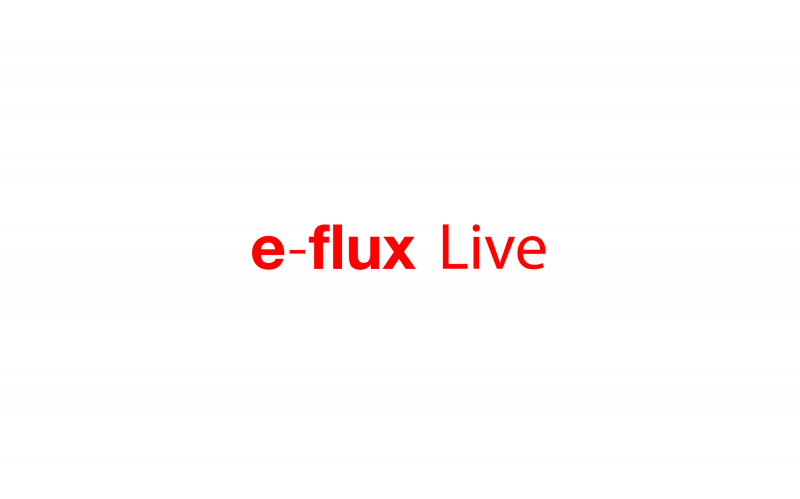 A Reality Between Words and Images: Films by Lynne Sachs
e-flux Live
Screening on October 27, 2022
https://www.e-flux.com/live/495786/a-reality-between-words-and-images-films-by-lynne-sachs/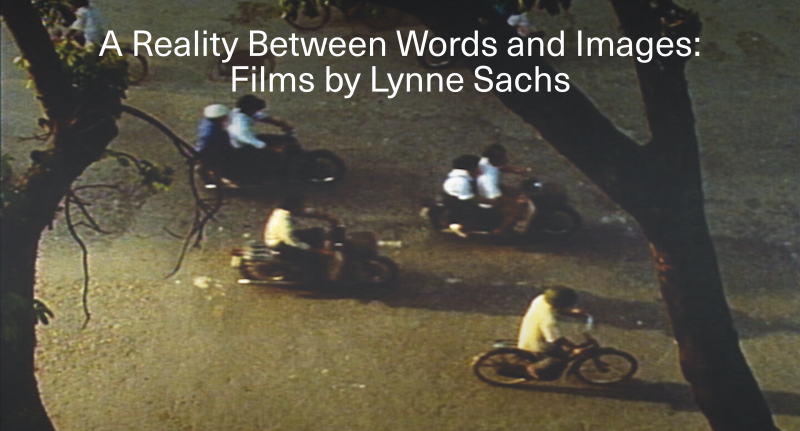 A Reality Between Words and Images: Films by Lynne Sachs
Admission starts at $5
Date
October 27, 2022, 7pm
172 Classon Avenue
Brooklyn, NY 11205
USA
Please join us at e-flux Screening Room on Thursday, October 27 at 7pm for A Reality Between Words and Images,a program of selected filmsby Lynne Sachs, and a post-screening conversation with Sachs and her collaborators Kristine Leschper and Kim Wilberforce.
In this screening we invite you to watch and discuss select works by Sachs that defy genre through the use of hybrid forms and cross-disciplinary collaboration, incorporating the essay film, collage, performance, documentary, and poetry. Sachs' self-reflexive films explore the intricate relationship between personal observations and broader historical experiences. With each project, she investigates the implicit connection between the body, the camera, and the materiality of film itself searching for a reality between words and images.
The screening is part of Revisiting Feminist Moving Image, a series at e-flux Screening Room aimed at revisiting the origins, contexts, developments, and impact of feminist video art and experimental cinema around the world from the 1960s through today.
---
Films
The House of Science: A Museum of False Facts (1991, 30 minutes)
Offering a new feminized film form, The House of Science explores both art and science's representation of women, combining home movies, personal remembrances, staged scenes and found footage into an intricate visual and aural collage. A girl's sometimes difficult coming of age rituals are recast into a potent web for affirmation and growth.
Which Way Is East: Notebooks from Vietnam (1994, 33 minutes)
When two American sisters travel north from Ho Chi Minh City to Hanoi, conversations with Vietnamese strangers and friends reveal to them the flip side of a shared history. "The film has a combination of qualities: compassion, acute observational skills, an understanding of history's scope, and a critical ability to discern what's missing from the textbooks and TV news." (SF Bay Guardian)
Window Work (2000, 9 minutes)
A woman drinks tea, washes a window, reads the paper—simple tasks that somehow suggest a kind of quiet mystery within and beyond the image. "A picture window that looks over a magically realistic garden ablaze in sunlight fills the entire frame. In front, a woman reclines while secret boxes filled with desires and memories, move around her as if coming directly out of the screen." (Tate Modern)
The Task of the Translator (2010, 10 minutes)
Sachs pays homage to Walter Benjamin's "The Task of the Translator" (1923) through three studies of the human body. First, she listens to the musings of a wartime doctor grappling with the task of a kind-of cosmetic surgery for corpses. Second, she witnesses a group of Classics scholars confronted with the haunting yet whimsical task of translating a newspaper article on Iraqi burial rituals into Latin. And finally, she turns to a radio news report on human remains.
Carolee, Barbara & Gunvor (2018, 8 minutes)
From 2015 to 2017, Lynne Sachs visited with Carolee Schneemann, Barbara Hammer, and Gunvor Nelson—three multi- faceted artists who have embraced the moving image throughout their lives. From Carolee's eighteenth-century house in the woods of Upstate New York to Barbara's West Village studio to Gunvor's childhood village in Sweden, Lynne shoots film with each woman in the place where she finds grounding and spark.
Figure and I (2021, 2 minutes)
Singer-songwriter Kristine Leschper asked Lynne to create a film in response to her song "Figure and I." Lynne immediately recognized that Kristine's deeply rhythmic music called for some kind of somatic imagery. She needed to move with her body and her camera. Lynne then invited her friend Kim to be in the film and to interpret the song through her vibrant wardrobe and her precise, ecstatic clapping.
---
Accessibility
–Two flights of stairs lead up to the building's front entrance at 172 Classon Avenue.
–For elevator access, please RSVP to program@e-flux.com. The building has a freight elevator which leads into the e-flux office space. Entrance to the elevator is nearest to 180 Classon Ave (a garage door). We have a ramp for the steps within the space.
–e-flux has an ADA-compliant bathroom. There are no steps between the event space and this bathroom.
​​For more information, contact program@e-flux.com.
Category
Film, Feminism, Music, Bodies, War & Conflict
Subject
Experimental Film, Documentary, Science, Death
---