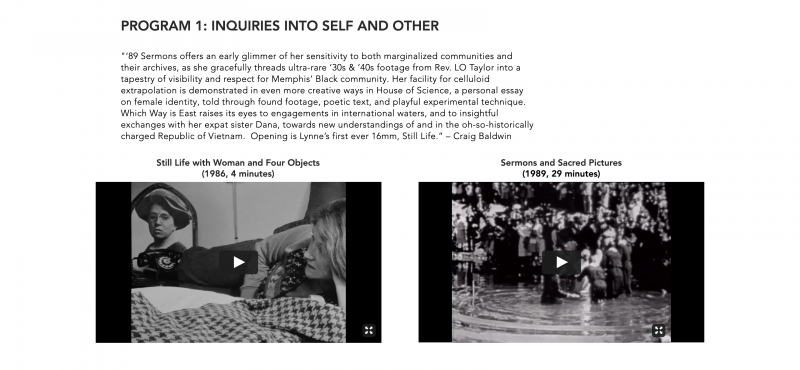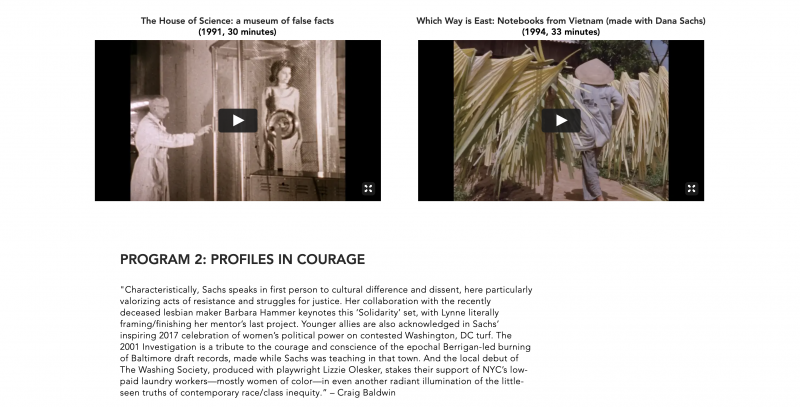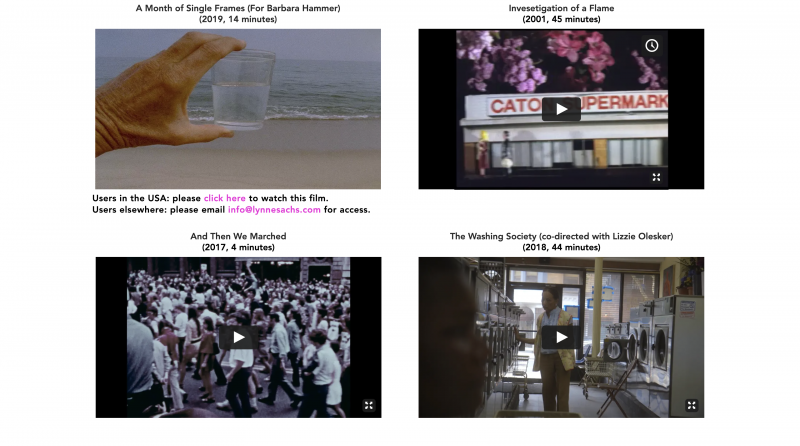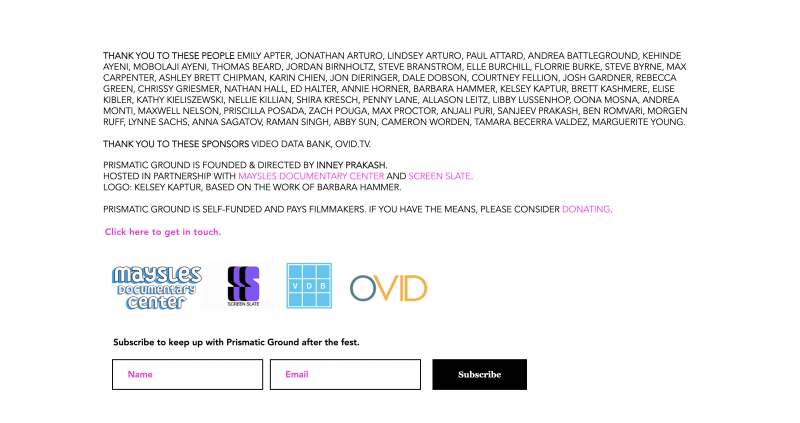 ---
Lynne Sachs in Conversation with Brett Kashmere (Canyon Cinema) – Ground Glass Award Presentation
---
Hosted April 8-18 , 2021
Here: https://www.prismaticground.com/
Prismatic Ground is a new film festival centered on experimental documentary. The inaugural edition of the festival, founded by Inney Prakash, will be hosted virtually in partnership with Maysles Documentary Center and Screen Slate. Catch the 'Opening Night,' 'Centerpiece,' and 'Closing Night' events live via Screen Slate's Twitch channel. The rest of the films, split into four loosely themed sections or 'waves', will be available for the festival's duration at prismaticground.com and through maysles.org. On April 10, at 4PM ET, Prismatic Ground will present the inaugural Ground Glass Award for outstanding contribution in the field of experimental media to Lynne Sachs. Other live engagements TBA.
---
MUBI and Prismatic Ground Film Festival
Questions from Mubi Notebook interview for the article Experimenting and Expanding at Prismatic Ground
1. How did Prismatic Ground get on your radar, and what drew you to the festival?
I met Prismatic Ground Film Festival director Inney Prakash about a year ago when I was teaching my very first virtual film and poetry workshop at the Maysles Documentary Center in Harlem where Inney works as a programmer. Of course, the workshop was supposed to be a face-to-face experience, but it was May of 2020 and there was no way that was going to happen! We were living in the beginning of a global pandemic! Inney was a critical part of our pivot to an online experience that could nourish participants from anywhere in the world. To our surprise, it worked extraordinarily well and 17 participants from the US, Ireland and Uruguay collaborated on making a series of fantastic video poems. From that point on, I have a feeling that Inney started to think that anything was possible in terms of making and viewing non-commercial, experimental documentaries. A few months later, he wrote to me to ask me if I would accept the first ever Ground Glass Award from his new founded Prismatic Ground Film Festival. I love the name of the award and thoroughly understand the meaning of the term "ground glass" since I have been making 16mm films since the mid 1980s! By the way, "ground glass" is the frosted glass surface in a film camera that allows the light projected from the lens to bounce off of a mirror and then be recorded as an image on the film surface.

2. What has your experience been with virtual premieres and screenings? And how has Prismatic Ground been different, if at all?
I had four films circulating in 2020 and 2021, "A Month of Single Frames" (14 min) and "Film About a Father Who" (74 min.), "Girl is Presence" (4 min.), and "Epistolary: Letter to Jean Vigo" (5 min.), plus career retrospectives at the Museum of the Moving Image in New York City and at the Sheffield Doc/ Fest in the UK. I was also on the jury for the Ann Arbor Film Festival and the FestCurtas Belo Horizante Film Festival in Brazil. It's been a daunting but exciting year. Everything was virtual, but somehow it worked. I loved these experiences and felt that they successfully brought filmmakers from all over the world together. The "in real life" experience can often be quite elitist just because air travel and hotel accommodations are so extraordinarily expensive.
Prismatic Ground embraced an entirely new, unbelievably adventurous yet compassionate approach to the viewing of experimentally driven cinema, beyond anything I have never seen in my life. Inney presented such an astonishing array of FREE work, never privileging a feature film over a shorter work, or a more accessible film over a more challenging one. His Q and A's were informed, respectful and inviting.
I also want to say something about the festival website design and graphics which subtly forced all of us as audience to watch the films with focus and commitment. You could not scroll through a film or go backward or forward. While you were allowed to pause, you could not be a dilettante and hop around from one film to another without losing your place in a movie. This created the closest experience to the one we have in a theater that I have ever witnessed online. In addition, the aesthetics of the website allowed Inney to frame each film on a page in relationship to others in the same "wave" which meant that you were always aware of his curating and the intricate relationships and themes he wanted you to recognize between the films.
3. Do you have a dream vision for a post-COVID festival ecosystem? Can be as broad as "more digital screenings," or as specific as "curated specifically for underseen/experimental artists," anything at all.
I think that the virtual is here to stay, but I also am praying for a return to being in a space with other people, with all the breaths, whispers, laughs, weeping, and shuffling of our bodies. We must accept that the virtual is vital. It allows homebound, less affluent audiences to access work outside mainstream, commercially driven movie culture. It can also put less emphasis on box office revenue which means experimental, underground, alternative cinema can travel on the magic carpet of the internet. I have noticed that more and more people throughout the world are becoming interested in the history of avant-garde film. They are discovering the work of artists like Jonas Mekas, Chick Strand, William Greaves, Carolee Schneemann Fernando Solanas and others, not just in museums or in classrooms, but at home. This is a revolution of the mind, the eye and the ear!

4. How has the last year of relative isolation influenced your work, if at all?
Despite the annus horribilis of 2020 (and beyond), I have actually met really interesting, dynamic, risk-taking people in the filmmaking community, all through the virtual portal of Zoom. For example, I was incredibly sad not to be able to attend the retrospective of my work at the Sheffield Doc/ Fest and at Prismatic Ground, but I was still able to meet Trinidadian essay filmmaker Che Applewhaite through our shared screenings at both festivals. Over the last few months, we have corresponded a great deal and recently even managed to meet in person here in NYC.
As I mentioned, I was on the jury for the 2020 Ann Arbor Film Festival and the Belo Horizante International Short Film Festival in Brazil. While I was not able to talk, face-to-face, or hang out in local bars with my fellow jury members after the screenings, we did develop quite profound relationships that allowed us to share our aesthetic passions and our personal pandemic struggles.
As an artist, I was able to make several short films that reflected my thinking during these troubling times. One of my most lasting discoveries has been that you can actually make collaborative work with artists from anywhere on the globe, and that this interactive experience can be revelatory. Never in my wildest dreams did I think this could be possible. Over the course of the last year, I found creative and intellectual comrades with whom I could work on such a surprising and generative level. Who knew?
Lynne Sachs