"On Writing the Film Essay" by Lynne Sachs
Published in Essays on the Essay Film, edited by Nora M. Alter and Tim Corrigan
Columbia University Press, 2017
Note: All of the films I discuss in this essay can be found on www.lynnesachs.com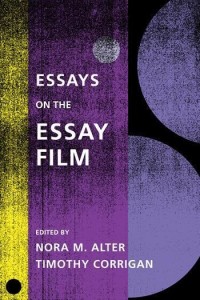 I feel a closeness to writers, poets and painters, much more than to traditional film directors. For one thing, we ciné experimenters are not bound by the plot-driven mechanics of cause and effect that, for me, often bring the transcendent experience of watching a movie to a grinding halt. The kinds of films I make give the space for mysterious – at least initially — sequences that don't simply illustrate why one event or scene leads to another. More like an artist than a traditional documentary maker, I am interested in a kind of meaning that is open to interpretation.  Once a film is complete, I often learn things about it from my audience — how the convergence of two images actually expresses an idea or how a non-diegetic sound expands the meaning of spoken phrase. I hope it's doing one thing, but I might discover that it's doing something completely different. In this way, the films are kind of porous and flexible; they are open to interpretation. My essay films, in particular, are full of association. Some are resolved and some are adolescent; they're still trying to figure out who they are.   Through the making of the film, I learn about myself in the context of learning about the world.   My job is not to educate but rather to spark a curiosity in my viewer that moves from the inside out.   The texts for these films come to me in both public and private spaces:  on a long train ride, during a layover in a strange city, at a café, in a hotel room, on the toilet.
Throughout the 1990s, I gravitated toward the simultaneously visceral and cerebral French feminist theory of Hélène Cixous and Luce Irigaray. As a moving image artist searching for a new discourse that spoke to radical issues with an equally radical form, I embraced this kind of writing as it led me toward the non-narrative, unconventional grammar of experimental film as well as the self-reflexivity of the essay.  My first essay film was "The House of Science: A Museum of False Facts" (1991), a personal rumination on the relationship between a woman's body and the often-opposing institutions of art and science.  While I was shooting this film, I was also keeping a diary:
"My memory of being a girl includes a "me" that is two. I am two bodies – the body of the body and the body of the mind.  The body of the body was flaccid and forgotten.  This was the body that was wet with dirty liquids, holes that wouldn't close, full of smells and curdled milk.  Of course there was the skeleton.  This was assumed and only reconsidered upon my very rare attempts at jumping farther than far enough, clearing the ditch, lifting the heave-ho. But the body of the body was not the bones.  This body wrapped and encircled the bones, a protective cover of flesh, just on the other side of the wall I call skin."
I will never forget a cross-country plane ride I took near the end of editing this film. Throughout the time I was in the air, as I flew across the Mississippi, the Great Plains, and the Rockies, I was searching frantically for the hidden skeletal structure of the film. I'd committed to a premiere at the Los Angeles Film Forum, and I only had a couple of months until my screening date.  (Stupid me. I'll never do that again!) Midway into the flight, I realized it was all laid out before me in the form of the poetry journal I carried in my backpack.  The writing had been with me all along; I simply hadn't realized that this text was more than a dispensable traveling partner in the "journey" that was the production of the movie. Over the next few weeks, my poems began to guide my editing of the images and sounds,.  Ever since that early period in my filmmaking career, I've kept a handwritten journal during the making of my films. In addition to contributing an often times essential narrative element, this kind of writing can also be the critical link to the "naïve" yet curious person I may no longer really "know," the person I was when I embarked on the intellectual and artistic adventure that is the creation of a film.
In my 1994 essay film "Which Way is East: Notebooks from Vietnam" (1994), I built a voice-over narration out of two surprisingly oppositional perspectives on post-war Vietnam. My sister Dana Sachs, one of the first American journalists to live for an extended period of time in Vietnam, offered expansive, highly informed insights on Vietnamese daily life.  In contrast, my writing traced my own transformation from earnest, war-obsessed American tourist to more keenly observant traveler:
"Driving through the Mekong Delta, a name that carries so much weight. My mind is full of war, and my eyes are on a scavenger hunt for leftovers. Dana told me that those ponds full of bright green rice seedlings are actually craters, the inverted ghosts of bombed out fields.  At Cu Chi, we pay three U.S. dollars so that a tour guide will lead us through a section of this well-known 200-kilometer tunnel complex. This is the engineering masterpiece of the Viet Cong, a matrix of underground kitchens and living rooms and army headquarters. As I slide through the narrow, dusty passageway, my head fills up with those old war movies Dad took us to in the '70′s. My body is way too big for these tunnels. I can hardly breathe. After five minutes, I come out gasping.  We decide not to spend the extra ten dollars it costs to shoot a rifle."
Only by reconnecting to the developing stages of my awareness through my journal could I provide an opening to my American audience.  The narrative trajectory of this half-hour film follows our evolving understanding of the landscape and the people of Vietnam. Honestly, my sister Dana and I fought all the through the shaping of the film's voice over.  If she hadn't been my sister, I probably would have fired her as a collaborator!  The fundamental tension between the two of us grew out of several distinct differences between our points of view.  While she had very much completed her own reckoning with the destruction of the war between Vietnam and the United States, I, like most tourists, was still dealing with the war's echoes and the guilt that came with that psychic burden.  While she wanted to follow the order of events to the letter, I felt free to articulate our experiences by distilling our stories into anecdotes that could function like parables. By recognizing the inherent tension between my position as a non-narrative experimental filmmaker and my sister's commitment to a more transparent commentary, we were able to find a rhetorical strategy that mirrors the most fundamental conflicts around discourse and truth facing an essayist in any format.   In several quintessentially self-reflexive moments, my sister expresses exasperation with almost every aspect of my production process:
"Lynne can stand for an hour finding the perfect frame for her shot. It's as if she can understand Vietnam better when she looks at it through the lens of her camera. I hate the camera. The world feels too wide for the lens, and if I try to frame it, I only cut it up."
In 1997, I completed "Biography of Lilith" (1997), a film exploring the ruptures both women and men must confront when transitioning from being autonomous individuals to parents with responsibilities.  I began making this film when I discovered I was pregnant with my first daughter and by the time I finished three years later I was able to punctuate the final sound mix with the cries of my second child. Inspired by the theoretical texts of Julia Kristeva and Antonin Artaud, in particular, this film celebrates my most intimate and abject concerns about the changes in my body and my place in the world as a woman. My film on Lilith, Adam's first mate, is also a portrait of a female archetype who boldly wanted to be on top during sex. The film matches a non-authoritative exposition of Lilith in a multiplicity of cultures – both ancient and contemporary – with my own pre and post-partum writing. In this way, I juxtaposed two years of historical and cultural research and interviews with intimate ruminations on my own sexuality and motherhood.
"I'm learning to read all over again. A face, this time, connected to a body.  At first, I feel your story from within.  Nose rubs against belly, elbow prods groin. Your silent cough becomes a confusing dip and bulge.  You speak and I struggle to translate.  I lie on my side, talk to myself, rub my fingers across my skin, from left to right.  I read out loud, and I hope you can hear me.  I'm learning to read all over again, but this time I have a teacher."
In "States of UnBelonging" (2005), my fourth film in a five-film body of work I call "I Am Not a War Photographer", I turned to Terence Malick's "The Thin Red Line" and to the "Hell" section of Jean Luc Godard's "Notre Musique" for lessons from makers who were capable of articulating the horror of war. I constructed this film around an epistolary friendship I had with an Israeli student who moved back to Tel Aviv during an extremely volatile period in Israel-Palestine.  A meditation on war as well as land, the Bible, and filmmaking, this essay film is built from over three years of emails.  With enormous hesitation and intimidation, we reveal our anguish and bewilderment in the film's soundtrack as well as on the screen as text. With an awareness of my own position in this charged political landscape, I start the film with a kind of meta-historical lamentation on the way that human beings organize time:
"Do you ever have the feeling that the history you are experiencing has no shape?
Even as a teenager I was obsessed with history's shifts and ruptures. Wars helped us order time. A war established beginnings and endings. There is "before." There is "during." There is "after."
I am currently working on "Tip of My Tongue", a film on memory that began with 50 autobiographical poems I wrote about each year from my birth in 1961 to my 50th birthday.  Unlike my previous films, in which the research and shooting themselves prompted the text, this project grew directly from my poetry.   Without the slightest concern for how the poems would eventually shimmy their way into one of my movies, in 2012 I gave myself the unencumbered freedom to write about my own life.  In each poem, I looked at the relationship between a large public event and my own insignificant, yet somehow personally memorable, connection to that situation.  Now, three years later, I am working with a cast of eleven people from almost every continent, each of whom was born around the year 1961. Together we are creating an inverted history of our collective half-century through a series of spoken story distillations that place the grand in the shadow of the intimate.  From glimpsing a drunken Winston Churchill on the streets of London to watching the Moon landing from a playground in Melbourne to washing dishes during the Iranian Revolution to feeling destitute during the Recession, we are working collaboratively to construct our own recipe for a performative sound-image essay film.
Excerpt from Review by Tanya Goldman in Cinema Journal:
"There is often a poetic dialogue extending between sections when a voice of the past rhymes with the present. In 1948, Alexandre Astruc wrote of a cinema that should function as "the seismograph of our hearts, a disorderly pendulum inscribing on film the tense dialectics of our ideas." This quality is echoed in Lynne Sachs's 2016 reflections on her own practice through which she feels a stronger sense of kinship with writers, poets, and painters than film directors. She states that her job "is not to educate but rather to spark curiosity in my viewer that moves from the inside out." Observations such as these bestow the essay film with a distinct emotive quality much at odds with classical documentary's association with sobriety."
Tanya Goldman
Cinema Journal, Volume 57, Number 4, Summer 2018, pp. 161-166 (Review)
Published by University of Texas Press
DOI: https://doi.org/10.1353/cj.2018.0064