«A new relationship to language and listening in cinema»: Lynne Sachs on her Sheffield Doc/Fest Retrospective
INTERVIEW: Documentary filmmaker Lynne Sachs speaks on her career as part of Sheffield Doc/Fest's «Ghosts & Apparitions» online focus.
By Lauren Wissot
June 17, 2020
https://www.moderntimes.review/lynne-sachs-on-sheffield-doc-fest-retrospective/?fbclid=IwAR3OR4Y1Fo13SLsvoRJG39EE3EuFgl7jRmbHqRJW9K3Tpf5mV2z_UCVPsVY
For the past three decades, experimental doc-maker Lynne Sachs has been collaborating with those both behind, and in front of, her lens. Whether recording encounters on her way from Ho Chi Minh City to Hanoi with her co-director sister Dana (1994's Which Way is East: Notebooks from Vietnam); or using (her own) children's performance to mine the life of a distant relative, a Jewish doctor who went from fleeing the Nazis to translating Winnie the Pooh into Latin in Brazil (2009's The Last Happy Day); or getting to know the undocumented workers sharing «shift beds» in NYC's Chinatown (2013's Your Day Is My Night) and the immigrants and people of color who wash and dry and fold throughout the metropolis (2018's The Washing Society, co-directed with Lizzie Olesker); or simply revisiting a moment in time on Cape Cod «with and for» the late great Barbara Hammer, incorporating the feminist filmmaker's personal archive into her process of dying (2019's A Month of Single Frames).
And from June 10 – July 10 these five diverse works will be shared online in the «Ghosts & Apparitions» section of this year's virtual Sheffield Doc/Fest. (Sachs' video lecture My Body, Your Body, Our Bodies: Somatic Cinema at Home and in the World will also accompany the retrospective. While her 2020 feature Film About a Father Who – a sprawling, 35-year-spanning portrait of the hedonistic bon vivant icon of Park City that is her (and too many others') dad, and which opened this year's Slamdance Film Festival – will have its international premiere in Sheffield in October).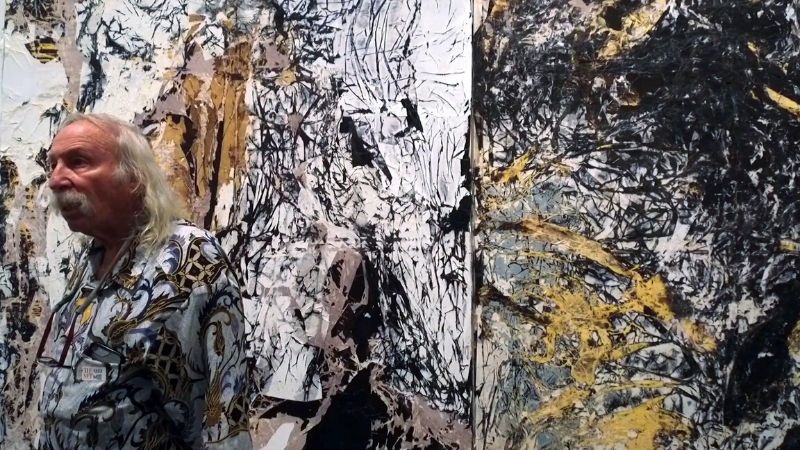 So how did this retrospective come about? How did you and Sheffield Doc/Fest decide which films to screen?
During the early weeks of the pandemic, Sheffield Doc/Fest director Cíntia Gil and I were talking (through Zoom) about our shared fascination with cinema and translation. We are both intrigued by the passive approach to transforming one language into another that comes with the act of subtitling. Generally speaking, when audiences for foreign films from anywhere in the non-Anglo world start reading their English translations, they simply stop listening to the nuances of the original language.
From my 1994 essay film Which Way is East: Notebooks from Vietnam to my 2018 hybrid documentary The Washing Society, I have tried to challenge this seamless leap from an «other» language to the more dominant English by playing with text onscreen and leaving some sections untranslated. Ever since I read Walter Benjamin's profoundly insightful essay The Task of the Translator, I've tried to activate the act of reading, with the hope of creating a new relationship to language and listening in cinema.
Film About A Father Who seems almost a culmination of your «filmmaking as family affair» approach to the work. How do you see it in relation to the many other films you've made throughout your career?
As a documentary filmmaker, I am always reckoning with what it means to shoot «from the outside in,» using my camera to peer into the lives of people from other places, cultures, or communities. Honestly, it's the foundation of the documentary paradigm that most disturbs me.
With this in mind, I have also consistently turned my camera toward my own life. It's an A/B/A/B kind of pattern. Looking out. Looking in. Between 1984 and 2019 I shot VHS tape, Super 8mm and 16mm film, mini DV, and digital video with my dad. It was a way to find meaning in the delights, the rage, and the forgiveness that were all so much a part of being his daughter. A few hours after Film About a Father Who premiered as the opening night movie at Slamdance 2020, I thought to myself, «Tomorrow will be the first day of the rest of my life.»
The Washing Society and Your Day Is My Night are incredibly timely considering the pandemic has finally exposed our hidden workforce – which has suddenly gone from society viewing these immigrants and people of color as expendable to «essential.» So have you thought about how the current collision of the coronavirus with racial inequity might best be documented to bring about lasting change?
Another convention of the documentary filmmaking practice is that you need to buy a plane ticket to make a movie, that your job is to make the exotic familiar. This conceit for working with reality conflicts with the notion that you can spend long, sustained periods of time with the people in your movies. They can move from being your subjects to being your collaborators if you are able to shoot your film in the place where you live.
As a documentary filmmaker, I am always reckoning with what it means to shoot from the outside in…

Lynne Sachs
With both The Washing Society (co-directed with playwright Lizzie Olesker) and Your Day Is My Night, I was determined to explore the nature of work and housing in the place where I live, New York City, over a long period of production. Both films investigate the experiences of immigrants, people in service jobs, people who are at the core of what makes a metropolis like this function and thrive. During the coronavirus pandemic and subsequent quarantine, white middle-class citizens were profoundly dependent on these service workers, predominantly people of color, who delivered food and cared for the sick. Maybe watching these films on shift-bed residents in Chinatown and laundry workers throughout the city will give viewers a chance to think about another layer of living in our daunting now.
You've tread similar doc territory as Julia Reichert who, along with her husband Steven Bognar, just won the Academy Award last year for American Factory. Do you think there's an increased hunger from the general public lately for films exploring labor issues, the dignity of work?
Julia and Steve are great heroes of mine. Their commitment to depicting the lives of working people is part of a recent obsession in our culture for understanding the great divide between those who make, those who distribute, and those who receive. British filmmaker Ken Loach's newest feature Sorry We Missed You gives us an equally profound window into the lives of the people who deliver packages.
Looking back a bit, I am indebted to Chinese filmmaker Jia Zhangke whose 2008 hybrid feature 24 City guided me toward seeing the factory as a context for organizing, performing, and exploring the collective work experience. While making The Washing Society I tried not to gasp in horror when I realized that the laundry workers I was filming were actually folding thousands of articles of clothing in one day. I want my viewers, who might indeed be their customers, to recognize the pain and struggle that a worker might feel.
I also make a point of collaborating with related worker-supported organizations like the Laundry Workers Center. I shoot video documentation of their protests or invite their organizers to my screenings so they can speak about their current activism.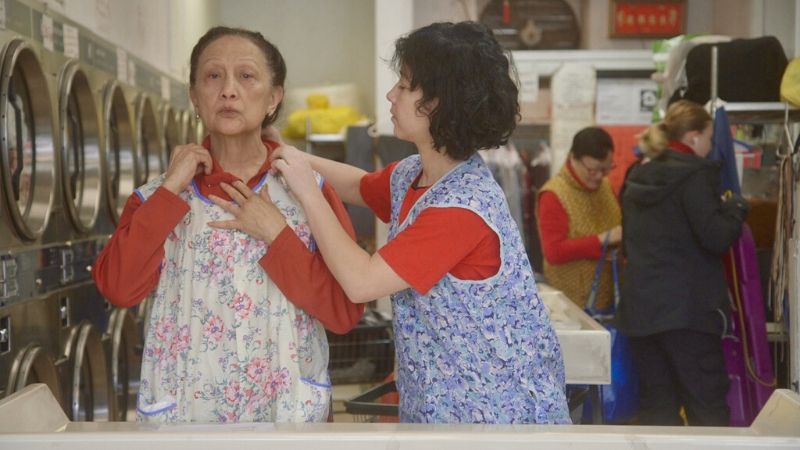 Your work is so reliant on close observation, on personal encounters with those in front of your lens. So what does filmmaking look like for you in a post-pandemic world?
You're so right. I thrive on finding some kind of intimacy with my filmmaking process, either through the lens or through my sustained engagement with the people in my films. I think that the convention of relying on the face, on the ability of an actor to articulate an emotion, is so overrated. A deep connection with a film can be found via a barely registered voice, two hands breaking a bean at a kitchen table, a glimpse of skin under the shower. These quotidian moments offer a viewer an entry point, a place to feel a part of the complexity of the cinematic moment.
Stuck at home over the last three months like everyone else, I attempted to throw out things I no longer needed or wanted. I found a bag of black shark's teeth given to me by an ex-boyfriend, some old red beads, and my collection of snow globes. My adult daughter Noa and I made a film together, which is now a fossil in a way, of our quarantine.
This week I left New York and drove to North Carolina. En route home, I visited Richmond, Virginia where I filmed the desecration of so many Confederate monuments. I am currently making an experimental documentary on Ida B. Wells, co-directed with historian Tera Hunter. No doubt the video I shot on the way home will find its way into this film. For me, life and filmmaking are very intertwined.

https://www.moderntimes.review/lynne-sachs-on-sheffield-doc-fest-retrospective/?fbclid=IwAR3OR4Y1Fo13SLsvoRJG39EE3EuFgl7jRmbHqRJW9K3Tpf5mV2z_UCVPsVY