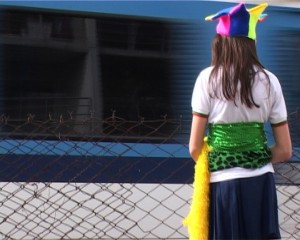 Wind in Our Hair at Walker Art Center in Minneapolis
https://walkerart.org/magazine/lynne-sachs-wind-in-our-hair-screening-august-3-september-5
August 3 – September 5, 2010
Lecture Room
Free. Screens at the top of the hour from 12 noon during gallery hours.
On Thursday, August 26, Sachs introduces the 7 pm screening, which is followed by a discussion.
Inspired by the short stories of Julio Cortázar, Lynne Sachs creates an experimental narrative about a group of girls on the verge of adolescence. While their lives are blissful and full of play, the political and social unrest of contemporary Argentina begins to invade their idyllic existence. Sachs' brilliant mixture of film formats and the ethereal music of Argentine singer Juana Molina complement the shifts in mood from innocent amusement to protest. 2010, video, in English and Spanish with English subtitles, 41 minutes.
Presented in conjunction with  Guillermo Kuitca: Everything—Paintings and Works on Paper, 1980-2008 exhibit.
Through some 50 large-scale paintings and 25 works on paper, Guillermo Kuitca: Everything traces nearly three decades of work from the Buenos Aires–based artist Guillermo Kuitca (b. 1961), one of the most important painters working in Latin America today, whose canvases have received significant international attention since the early 1990s. Departing from previous surveys, it explores both the conceptual nature of Kuitca's singular painting practice, as well as its interdisciplinary origins.
Walker Art Center
1750 Hennepin Ave.
Minneapolis, MN 55403