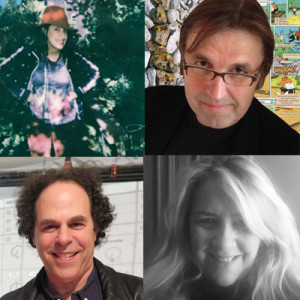 December 10, 2019 @ 7:00 pm – 9:00 pm
Four Poets Gather to…..
An evening of round-robin readings with Brooklyn writers Michael Ruby, Michele Somerville, Erik Schurink, and Lynne Sachs
Tuesday, Dec. 10, 7 to 9 PM
Court Tree Gallery
371 Court St 2nd Floor (at Carroll St.) Brooklyn
Free and open to the public.
"I've been working hard to think about what the four of us have in common and the one thing that came to mind is that we all have children who are now young adults. I happen to know for a fact that our distinct experiences of having children, being with children, and thinking about our own childhoods have been a great resource for each of us in our work. With this in mind, I invited Michael, Michele and Erik to join me to read from their collections." – Lynne Sachs
Michael Ruby is the author of many poetry books, including Compulsive Words (BlazeVOX, 2010), American Songbook (Ugly Duckling, 2013), ebook Close Your Eyes (Argotist Online, 2018), ebook Titles & First Lines (Mudlark, 2018) and The Mouth of the Bay (BlazeVOX, 2019), as well as a trilogy in prose and poetry, Memories, Dreams and Inner Voices (Station Hill, 2012). He also co-edited Bernadette Mayer's collected early books, Eating the Colors of a Lineup of Words (Station Hill, 2015), and works as an editor of articles about U.S. politics at The Wall Street Journal.
"If 'experiment' means anything when we speak of experimental poetry, Michael Ruby's gathering (in Memories, Dreams and Inner Voices) is a moving testament to the still real possibilities of such a venture/adventure. His project here—to explore "the varieties of unconscious experience" as they come to him—is an aspect of what Gary Snyder once described as "the real work of modern man: to uncover the inner structure and actual boundaries of the mind." That Ruby's workings with memory, dream, and the experience of language between sleep and waking issue in a new and powerful work of poesis is something to be celebrated and experienced by all of us in turn." – Jerome Rothenberg
Michele Madigan Somerville is the author of two books of verse, Black Irish (2009) and WISEGAL (2001), and a third, Glamourous Life, which will be published by Rain Mountain early in 2020. She was born on the island of Manhattan and lives in Brooklyn.
"Somerville takes us on a grand cosmic ride on that fine line between the divine and the sacred. Along that ride, Madigan Somerville never loses her sense of humor and never stops having fun." — Joanna Sit
Erik Schurink creates evocative art experiences and interactive exhibits to engage people and build community. He is Director of Exhibits at Long Island Children's Museum.
Erik Schurink's poetry is structurally driven by literary constraints and arrangements.
His Cryptozoo (Proteotypes, 2012) is a journal in which he and eleven other writers respond to animalistic images he photographed. His work has been featured in AMP Always Electric, 13 Writhing
Machines, Upstart: Journal of English Renaissance Studies, An Oulipolooza,and others. He is a contributing artist to Abecedarium NYC and Galerie de Difformité. He co-leads the monthly Writhing Society workshops at Brooklyn's Central library.
Lynne Sachs often includes her poetry in her films (Tip of My Tongue, House of Science, Biography of Lilith), allowing her to draw in her reader through a play with language. She began Year by Year Poems (Tender Buttons Press, 2019) as a half-century marker in her life, one for each year from 1961 to 2011.
"The whole arc of a life is sketched movingly in this singular collection. These poems have both delicacy and grit. With the sensitive eye for details that she has long brought to her films, Lynne shares, this time on the page, her uncanny observations of moments on the fly, filled with longings, misses, joys and mysterious glimpses of a pattern of meaning underneath it all." — Phillip Lopate