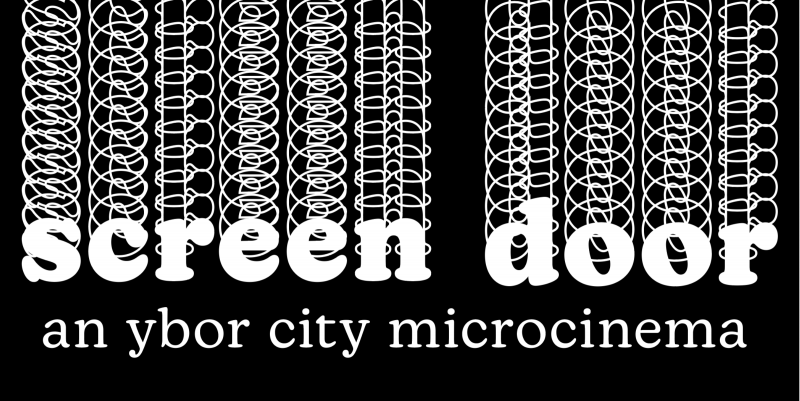 FILM ABOUT A FATHER WHO & Short Films by Mark Street and Lynne Sachs
Ybor Microcinema
July 22 & 23, 2023
https://www.eventbrite.com/e/film-about-a-father-who-2021-by-lynne-sachs-tickets-668483400847
https://www.eventbrite.com/e/short-films-by-lynne-sachs-and-mark-street-tickets-668484825107
Ybor Microcinema:
https://ybormicrocinema.org/
Film About A Father Who (2021) by Lynne Sachs
Sachs has created an indelible work that, like those within it, perseveres by way of honesty and love.
Date and time
Saturday, July 22 · 7 – 10pm EDT
Location
Screen Door Cinema Kress Annex 1624 East 7th Avenue Tampa, FL 33605
About this event
In Horace's Odes, one among many texts where this sentiment endures, the Roman poet wrote, "For the sins of your fathers you, though guiltless, must suffer." It's hardly an esoteric dictum, but nevertheless it's duly reflected in experimental filmmaker Lynne Sachs' wholehearted documentary portrait of her father, Ira Sachs Sr. Something of a longstanding work-in-progress, the film draws from decades of footage shot by Sachs, her father, and her filmmaker brother, Ira Sachs Jr. (whose own 2005 film FORTY SHADES OF BLUE was inspired by the same so-called "Hugh Hefner of Park City"), plus others, documenting not just the sybaritic "hippie-businessman" patriarch, but also his numerous descendants. Sachs' knotty chronicle reveals that her father has a total of nine children with several different women, two of whom the other siblings found out about only a few years back. (The film opens with Sachs brushing her elderly father's hair, working out a particularly unpleasant snarl. "Sorry, dad," she says. "There's just one part that's very tangly." The irony is faint and benevolent, but present even so.) Sachs considers the enveloping imbroglio from her own perspective, but also takes into account the viewpoints of her eight siblings, her father's ex-wives (including her own mother) and girlfriends, plus Ira's mother, a gracefully cantankerous old woman in a certain amount of denial over her son's wanton predilections and the role she played in his dysfunction. FILM ABOUT A FATHER WHO—the title an homage to Yvonne Rainer's FILM ABOUT A WOMAN WHO…—is comprised of footage recorded between 1965 and 2019 and shot on 8mm, 16mm, VHS, Hi8, Mini DV, and digital; the fusion of all this material (by editor Rebecca Shapass) ranks among the most astounding use of personal archives that I've ever seen. It all exists in a state between documentary and home-movie footage, a paradigm that aptly reflects the conflict between reality and perspective, and the uncomfortable middle-ground that bisects the two. Sachs' work often features her family, but this feels like an apotheosis of her autobiographical predisposition, likewise a question—why do the sins of the father linger?—and an answer. Among the most affecting scenes are round table discussions between the siblings where they consider revelations about their father and the implications of his actions. These scenes are heartrending not for their sadness, but rather for their naked honesty; it's not just a film about a father who, but also a film about a love that defines a family. Sachs' filmography is centered on infinite poetic quandaries (in voice over, she explores some of them here, such as when she muses on her father's profession as a developer in Utah: "What happens when you own a horizon?") and this feels like a logical conclusion to a lifetime of such profound impasses, though I've no doubt she'll continue to probe life and its enigmas in a similarly masterful fashion. For all the suffering on display, Sachs has created an indelible work that, like those within it, perseveres by way of honesty and love.
_________
Screen Door Microcinema celebrates the works of Lynne Sachs, along with her feature documentary, 'A Film About a Father Who'
Followed by a special Q/A with Aditya Sudhakaran on Saturday, July 22, 2022
In a career spanning over 30 years of filmmaking, Lynne Sachs shares her collections of compassion with an introspective lens that often centers and returns to the filmmaker herself. As in many of her films, Sachs' personal life and struggle are deeply connected with the themes she presents. In her latest work, 'A Film about a Father Who,' Sachs presents an intense study of her charismatic father and unravels the strands of his lasting impacts on their family.
There is something rhythmic and inexplicably resonant when a filmmaker can point the camera at a subject and examine familial connections and tensions just with someone's face, body and words. For Sachs, her filmmaking affirms that it's not just the characters who should be on an adventure, but the filmmaker as well. With her latest film, Sachs skillfully persists in the sensation of being fragile while voicing that to be an artist is to be possibly caught in the conundrum of failure.
Lynne Sachs is no stranger to the Tampa Bay area and joins us for a special Q/A at Screen Door Microcinema. Her moving image work ranges from short experimental films to hybrid live performances to essay films, which have screened, won awards or been included in retrospectives at New York Film Festival, Museum of Modern Art, Sundance, Oberhausen, Viennale, Sheffield Doc/Fest.
In the spirit of great documentary filmmakers, Screendoor presents a screening of Werner Herzog's Fitzcarraldo followed by Tampa's own Les Blank and his study of the making of Werner Herzog's feature in Burden of Dreams the following week.
By Aditya Sudhakaran
'A Film about a Father Who' plays at Screen Door Microcinema on Saturday, July 22 followed by a Q/A with Lynne Sachs. A collection of short films by Sachs' and her spouse, filmmaker Mark Street plays Sunday, July 23.
---
Short Films by Lynne Sachs and Mark Street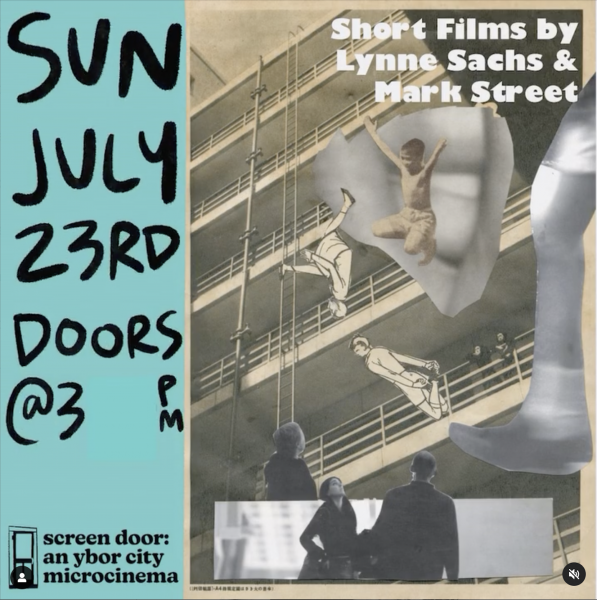 Various Short Films introduced by the directors themselves.
Date and time
Sunday, July 23 · 3 – 6pm EDT
Location
Screen Door Cinema Kress Annex 1624 East 7th Avenue Tampa, FL 33605
The XY Chromosome Project follows the career paths of Lynne Sachs and Mark Street. To follow this path is to trace a blueprint on devotion. Working both together and individually for the past 30 years, each artist has carved out their own niche without the obvious influences of being married. They part ways to be left alone to their own creations. It is the respect for the other's work that bonds them. Left alone, their work could not be more different. Lynne's work is cerebral and emotional. As seen in her full length films "Your Day is My Night" and "Tip of My Tongue". She collages the art of storytelling by layering stunning visuals while swimming between reality and performance.
Mark is the experimental film hero, a pioneer in film manipulation, an encyclopedia in the world of experimental films. His film work is solely connected to what is possible in the organics of film manipulation. They celebrate experimentation in its truest form. Yet both come down on the same line when it matters most. The line of captivation which as any artist knows is the hardest to achieve.
__________
Screen Door Cinema and Flexfest are hosting Lynne Sachs & Mark Street live and in-person at Screen Door this Sunday at 3pm! 16mm & digital program
Sunday 7/23/23
Doors 3pm
Showtime 3:30
THE X/Y CHROMOSOME PROJECT:
short films by Lynne Sachs and Mark Street
**an in-person conversation with Lynne Sachs & Mark Street follow the screening**
In 2010, Mark Street and Lynne Sachs created The XY Chromosome Project, an umbrella for their collaborative ventures. Together they have produced an array of collaborative installations, performances, and two-dimensional art works. To follow this path is to trace a blueprint on devotion. Working both together and individually for the past 30 years, each artist has carved out their own niche without the obvious influences of being married. They part ways to be left alone to their own creations. It is the respect for the other's work that bonds them. Left alone, their work could not be more different. Lynne's work is cerebral and emotional. She collages the art of storytelling by layering stunning visuals while swimming between reality and performance. Mark is the experimental film hero, a pioneer in film manipulation, an encyclopedia in the world of experimental films. His film work is solely connected to what is possible in the organics of film manipulation. They celebrate experimentation in its truest form. Yet both come down on the same line when it matters most. The line of captivation which as any artist knows is the hardest to achieve." (Stephen Lipuma, Court Tree Gallery)
BLUE MOVIE, Mark Street, 1994, 5min, 16mm
DRAWN AND QUARTERED, Lynne Sachs, 1987, 4 min., silent, 16mm
ECHO ANTHEM, Mark Street, 1991, 8min, sound, 16mm
WINTERWEHEAT, Mark Street, 1989, 8min. 16mm
EPISTOLARY: LETTER TO JEAN VIGO, Lynne Sachs, 2021, 4 min., digital
GEORGIC FOR A FORGOTTEN PLANET, Lynne Sachs, 2007, 8 min., digital
THE GRAIN OF BELFAST, Mark Street, 2022, 6min Super 8 to digital
DRIFT AND BOUGH, Lynne Sachs, 2015, 6 min., 16mm to digital
CLEAR ICE FERN, Mark Street, 2023, 12min, Super 8 to digital
FLUTTER, Mark Street, 2022, 14min, digital