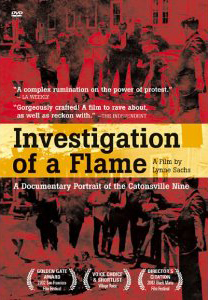 The Catonsville Nine Panel
the Vietnam antiwar movement in 1968, In Catonsville
Friday, May 10, 2013 · 2:30 PM – 6 PM
On Campus
---
Friday, May 10
Proscenium Theater, Performing Arts and Humanities Building
Looking Forward from the 45th Anniversary of the Catonsville Nine Actions
In May of 1968, nine individuals shook the conscience of the nation as they burned U.S. Selective Service records with home-made napalm on the grounds of the Catonsville, Maryland Knights of Columbus hall. The fire they started erupted into an infamous trial where the nine were defended by William Kuntsler. The news spread throughout the country, influencing other similar dynamic actions in every major U.S. city. Two of the original members of the Nine will be on hand to talk about their experiences – about how they met and their stand against U.S. militarization in Latin America. We will also be joined by two scholars who will help us connect this story with the larger context of Vietnam War era protests.
2:30pm Reception
3:00pm Screening of the documentary film Investigation of a Flame (dir. Lynne Sachs), followed by excerpts from the documentary film Hit and Stay (dir. Joe Tropea & Skizz Cyzyk). Q&A with the directors.
4:30pm Panel:
Thomas and Margarita Melville (authors of Whose Heaven, Whose Earth?);
Karin Aguilar-San Juan (Macalester College, author of Staying Vietnamese and The State of Asian America);
Joby Taylor (Shriver Center Peaceworker Program, moderator); and special guests.
Co-sponsored by the Department of American Studies