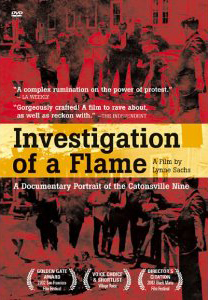 Link to Screen Slate review: https://www.screenslate.com/features/825
Investigation of a Flame – Review
by Chris Shields     Featured May 27th 2018
On May 17th 1968, nine Catholic activists entered the draft board in Catonsville, Maryland. They took 378 draft files, brought them to the parking lot, and burned them using homemade napalm. In order to get to the files, the group was forced to struggle with a clerk, Mary Murphy, who was working at the office that day. Later, from jail, the activists sent Murphy a bouquet of flowers and an apology.
This curious detail is one among many that come to light in Lynne Sachs elegiac 2001 film Investigation of a Flame, screening tonight at Anthology Film Archives. This poetic cinematic essay integrates interviews, archival footage, and experimental flourishes into a gentle evocation of the Catonsville Nine's direct action. From this variety of material, the film develops its own deliberate cadence, where found and original footage create an effortless dialogue across time. Sachs gives us a rich vision of the event, the people involved, and its political and philosophical context, that's always elegant, never didactic.
Sound maintains the leading role in Sachs' film. It binds her images together, giving the formally playful passages their necessary freedom while keeping them tethered just closely enough to the larger subject. A variety of voices are also key. In Investigation of a Flame, we hear from the Nine themselves and Mary Murphy, the draft board clerk, and the Catonsville Nine prosecuting attorney as well. These voices of seeming dissent are not at odds with the work at large, but rather become some of its greatest strengths, achieving, strangely enough, the kind of dialogue advocated by a steady stream of present-day editorials. The perspectives of the Nine, Mary Murphy, and others however, so many years after the incident, are still reckoning with questions of duty, faith, and violence. What results is a not a work of lifeless history, but a vital, wisened film about the nature of protest.