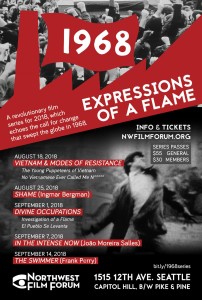 Northwest Film Center presents
1968: Expressions of a Flame
1515 12th Ave.
Seattle, WA

Sept. 1, 2018
https://nwfilmforum.org/films/1968-expressions-of-a-flame-in-the-intense-now/
The year 1968 signaled revolution, but that call for change was heard differently, unevenly. In the streets, it was louder than a bomb and echoed with joy; in mansions and police precincts, an incomprehensible tune sung in an impossible language. A student in Mexico City goes to a demonstration, a communist in Tokyo buys a saxophone, a CIA operative spies on Black nationalists in Cleveland, and the Los Angeles rich look in the mirror and don't recognize their faces. This film series explores the many manifestations of this global upheaval through cinema.
Series programmer: Austin McCann
Investigation of a Flame and El Pueblo Se Levanta are two documentaries centered around the church as a site of community organizing.
—
Investigation of a Flame
(Lynne Sachs, US, 2003, 43 min)
In her elegiac tribute to the Catonsville Nine, acclaimed documentarian Lynne Sachs ponders the moral dilemma that moved nine middle-class Catholics to break into their local Maryland draft office and burn 378 draft records with homemade napalm. The film combines insightful interviews with a more abstract visual sensibility attuned to the quotidian spaces of the resisters. A beautiful portrait of faith in opposition to war featuring Daniel and Philip Berrigan.
El Pueblo Se Levanta
(Prod. Third World Newsreel Film Collective, US, 1971, 42 min)
The Young Lords were a US-based Puerto Rican militant organization dedicated to improving the lives of their communities through direct action and community programs. In this hard-hitting 1971 newsreel, we witness the Young Lords organizing in Harlem in the late '60s, including an extensive church occupation.
 *Co-presented with the Seattle Chapter of the DSA!* Post-screening discussion to follow with Dae Shik Kim Hawkins Jr., who is a local reporter, youth pastor, and organizer with the Seattle Peoples Party. He does most of his organizing around Seattle's unhoused community and the brutal sweeps that the city continues. Hawkins recently co-wrote the "Bruised But Not Broken: Tales of a Korean Immigrant Church" series for Inheritance Magazine. You can find his writing in the South Seattle Emerald, the Seattle Weekly, and the Atlantic.